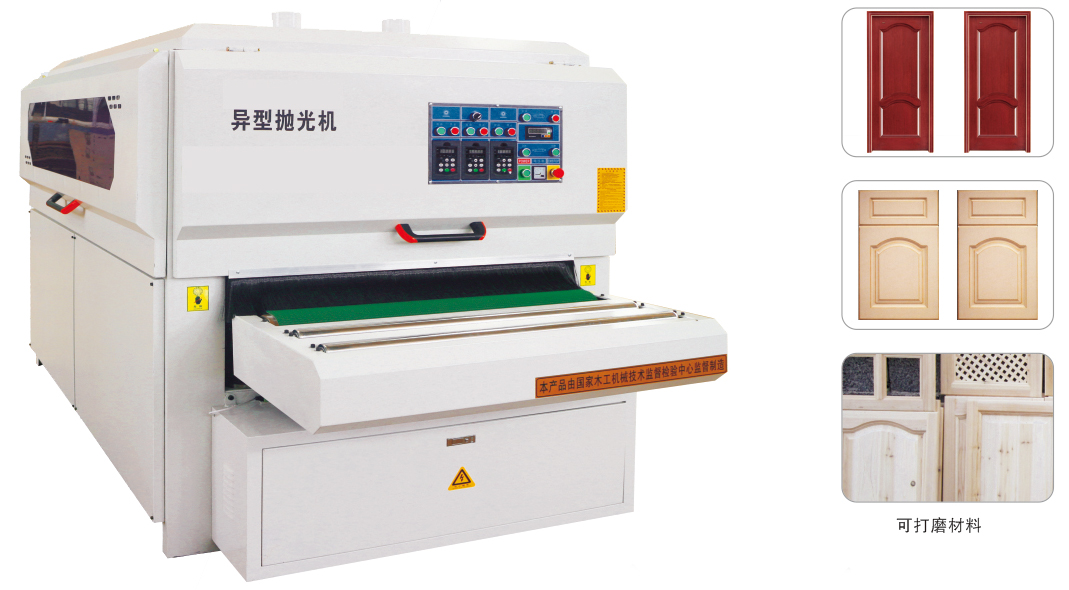 主要技术参数
Main Technical Parameters

功能特点
Features
首道砂辊采用圆盘摆动、横向、纵向打磨方式对工件表面360°全方位打磨,确保工件的打磨效果。
平台选用大理石平台,精度高,平整度好,持久耐用。
钣金全部采用激光切割下料,尺寸精确,外形美观。整机经过高温烤漆,机身碰撞之后不易掉漆,防锈效果更加持久。
选用进口中间继电器,电机为纯铜芯国标电机,其他电器均使用正泰电器。
毛辊所配均为进口纱布条,更加耐用,质量保证。
本机配有变频器装置,可以自由调整转速,变频器保质一年。
本机效率高,每分钟打磨一扇门,大大节约人工成本,提高工作效率。
The first sand roller polishes the surface of the workpiece by rotating, horizontal and longitudinal polishing in a 360-degree way to ensure the smoothness.
The platform is made of marble, with high precision, good flatness, long durability.
All the sheet metal uses laser cutting materials with accurate sizes and aesthetic shapes. Baking painted at a high temperature, the paint is not easy to peel off even after collision and the rust prevention effect is more durable.
Imported intermediate relays, national standard motor with fine copper core are equipped. Other electrical appliances are Zhengtai electrical appliances.
The wool rollers are equipped with imported gauze strips which are more durable and stable in quality.
The machine is equipped with a frequency transformer that can freely adjusts the speed. The frequency transformer has a one-year warranty.
The machine has so high efficiency that can polish a door every minute, greatly saving labor costs and improving work efficiency.